International Sales, Spares and Service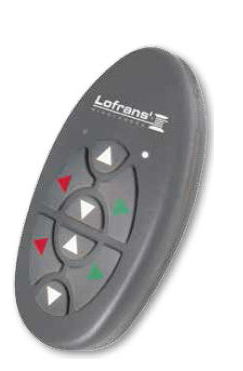 2 channels 433.92 Mhz.
12 - 24 volts.
Description
Lofrans radio remote control is designed to work with our range of windlasses.
The remote control can also be used to operate other onboard equipment such as thrusters, passerelles, cranes, etc.
Main Features
Supports up to 8 independently controlled channels.
Each receiver can switch 4 channels (12/24 V - 5 A).
Each transmitter can handle 2 receivers (8 channels).
Digital recognition avoids accidental activation of other system.
Zero power consumption when in standby mode (transmitter).
Easy to install and set up, simple to use.
Number of buttons
8 (transmitter)
Voltage
12 - 24 Vdc (Receiver)
Operative temperature
-10:+60
IP protection rated
67 (transmitter)
Max contacts amperage (A)
2 (receiver)
Weight (gr)
310
Dimension (mm)
114x60x22(transmitter)
126x78x23(receiver)
Description
Frequency
Price
Transmitter and Receiver (EU)
868MHz

355.69&nbsp€
Sale Price
320.12&nbsp€

312976
Transmitter and Receiver (USA)
915MHz

355.69&nbsp€
Sale Price
320.12&nbsp€

312977